Perhaps you are just getting started as a new delivery driver for Uber Eats, Doordash, Postmates, Grubhub or some other gig economy platform and you are wondering tools you need to get started. You don't even need to be new, maybe you've done this for awhile. What do you need to get started? What do you need to be successful?
The beauty of doing delivery work for these gig economy platforms is, it's easy to get started. There are two things you absolutely need to get started – a way to get around and a smart phone. Beyond that, there are a few extra things that cost you very little that will set you up for greater success.
Let's talk about the eight things that are most important, that every new (and existing) delivery driver needs to do really well with Uber Eats, Grubhub, Doordash, Postmates, or any other delivery platform that signs you up as an independent contractor. You probably already have some of them, some won't cost you a thing, and the rest cost you very little.
Quick disclosure about links to products in this article: As an Amazon associate, I may earn money from qualifying purchases, and those earnings help keep this website operating.
Tool #1: A way to get around.
You have to find a way to get to the restaurant you are delivering from, and then of course you have to get that food to the customer.
The best way to get around depends based on where you are. In some of the most densely packed metropolitan areas, some couriers deliver by food. For a lot of areas, a bike or eBike might get you through traffic and parking better than with a car.
For most of us, it's about using our car. Using your car can be an awesome way to use what you already have to help you earn some extra money. It can also be a great tool for earning a full time income if it makes sense to do this full time.
Here's a couple of warnings I'll give about your car. If you're not careful, it can get you in trouble.
1. Make sure you understand exactly what it is costing you. It's more than just gas. We can put a lot of miles on with deliveries, and your car is like a credit card on wheels. Every mile you drive piles up debt. That debt comes in the form of maintenance costs, repair or replacement for wear and tear, and less money you get when you sell or trade it because of the extra miles.
Understand the insurance implications of using your car for deliveries. This is extremely important, because you may be uninsured.
Tool #2: A Smart phone
These delivery apps tend to send your delivery offers to you over apps on your phone. Generally you need an Android or iPhone phone.
Getting started, use what you have. Don't go and get a different phone just for deliveries until you know for sure you want to keep doing deliveries. Unless of course you have an old flip phone. That probably won't work.
If you find this is a great opportunity, it might be worth getting a little more serious with your phone. I do recommend you get a high end phone (even if it's a couple of generations old). These apps can be demanding on the processing power of a phone. A larger screen can be very helpful. That doesn't mean you have to get something super expensive, but I do believe that a 2 or 3 year old Galaxy S or iPhone is going to be better than the entry level android phones out there.
One last thing about phones: Depending on your contract, you want to start paying attention to how good the coverage is with your phone carrier. Having reliable data is critical to operating well. Having dead spots in your cell coverage can cost you a lot of money in lost time and lost deliveries.
Tool #3. A Pen and a Notepad.
This one tool is maybe the most valuable of all of them. It definitely has more return for your investment than just about anything else.
Use the notepad to track your miles. It can save you thousands of dollars.
This is all about keeping your taxes down. That's because for every mile you drive, you can take 57.5 cents off your taxable earnings (for 2020). Say you drove 1,000 miles and earned $1,000. Your taxable income is only $425.
But you have to have a record of the miles to claim them. You can't estimate. To claim miles, the IRS says you need to have a record of:
The date of the trip
How many miles you drove
Where you went
The business purpose of the trip.
There are a number of ways you can do that, including some apps that will record miles. I'm an app guy, but I still prefer the written record when it comes to miles. Whatever way you choose, make sure you're tracking your miles.
Tool #4: A Delivery Bag.
Some delivery companies will provide a bag for you. Some, you are on your own. Either way, make sure you have and use delivery bags to protect the food. Personally, I like to use something that doesn't have the logo of any particular company. That's because I deliver for several companies (see tool #6).
[product id="1603″]
I find that what I spend on delivery bags more than pays for itself. When you walk into a restaurant with a delivery bag, they know right away that you're there for delivery. This can save a lot of time and keep you from waiting in line behind customers ordering for themselves. Taking good care of the food and getting it to the customer as hot (or as cold when appropriate) as possible often makes a difference in your tips.
Tool #5: A Cell Phone Holder
As I mention in tool #2, we use our phones. A lot. Between delivery offers, navigating, and communicating with customers, restaurants, and the delivery companies, it's constant.
Having a good cell phone holder that securely holds your phone in a safe location and improves visibility increases your efficiency and your safety. I find that a well positioned phone is easier to view for navigation than the in screen car navigation screens (if you have one). The few times I use my wife's car, I find I miss my phone holder tremendously.
My recommendation is to get one with a magnet. You are getting in and out of your car with your phone constantly and it's just faster and easier to pop the phone onto the magnet than to mess with the arms holding it on other types. Below is a link the one I use personally – I like it because it's flexible, will work on the dash or windshield, and the telescoping arm is great. You'll put a small metal plate on your phone case (don't put it directly on the phone, it's just a bad idea).
Tool #6: Another App
Get signed on for another delivery platform.
Here's the reality with delivery apps. Something will go wrong.
The app will crash at some point. It happens with all of them. Sometimes there will be too many other couriers working for the same app and things will get slow.
I think it's a good idea to concentrate solely on one delivery app until you get very familiar with how it works. Hower, I recommend getting signed on immediately with one or more other apps so that you have a backup when needed. It gives you an option that you can fall back on when things do go wrong or when the one you are working gets too slow.
Sponsored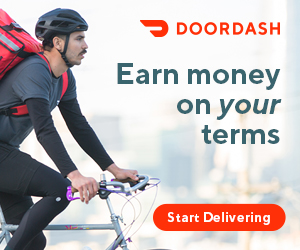 Tool #7: A Uniform
I'm not necessarily talking about a uniform for any of the delivery companies. In fact, I refuse to wear any of their logos.
But I do have a uniform that I put together. For me, it's simply a red shirt, casual slacks, and a fedora. Yours can be whatever you want. You can easily make it up out of your existing wardrobe, you don't have to go get anything. But put together something that gives you a professional feel, because… you are a professional.
I wear a red shirt because it's a common color for couriers. It also stands out and helps me get attention at the restaurants. People have been found to tip better when someone is wearing red. The fedora helps me stand out, get remembered by customers AND by restaurant staff. All of that gets me in and out and on to the next delivery quicker.
Here's the main reason I find the uniform to be so critical: It's all about mindset. When you dress professionally, you feel professional. And the thing is, you ARE a professional. Which brings me to #8:
Tool #8: A Business Attitude.
These companies insist on hiring independent contractors. Not employees.
Being an independent contractor means you're working for them as a business instead of as an individual. Technically and legally, you are running a business.
On one hand, they're dodging responsibilities and refusing to protect the people who do work for them. The best way to avoid being taken advantage of in this scenario is to beat them with their own game. Embrace the fact you are a business owner and claim your rights as a business owner. Don't give them an out and reward them by thinking like an employee, but instead think like a business owner.
Adopt a business attitude. Be the boss.
Because the bottom line is, when they chose this model, they chose to make themselves your customer.
NOT your boss.
That changes the power of the relationship dramatically when you take that attitude. Treat this like a business. Become the boss, not the employee.
We have a whole series of posts and podcast episodes called the
31 Day Courier MBA.
MBA here stands for Mastering Business Attitude.
Be the Boss and Give Yourself the Tools to succeed.
You see the difference all the time between the businesses that are just existing, and the ones that mean business. Some do just the minimum, and you can see the results.
Delivery work can be a great opportunity. You might be amazed at how well you can do with this gig. Taking these small steps and assembling this small list of tools will give you a great head start.
And from there…. it's up to you. Go out there and be the boss.